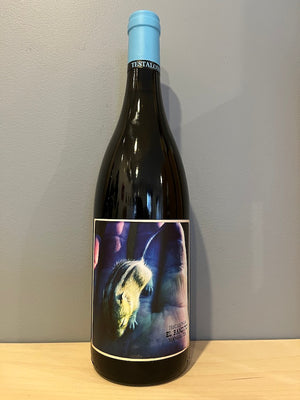 Testalonga El Bandito Mangaliza 2022
---LIMITED TO 1X PER CUSTOMER---
Harslevelu. Whole bunch pressed to old French oak barrels. 50+ y.o vines. Tiny 0.5ha vineyard.
Floral, peach and pear. Rich in texture and runs like Forrest.
Note from Craig: "The wine is born from my experiences in working close the Hungarian border in Austria. Here I came into contact with the grape Harslevelü, which is beautifully fragrant and has a great natural oily texture together with decent acidities. I came back to South Africa and work with a tiny 0.5 ha vineyard, (which is next to the Sweet Cheeks and Cortez vineyard). Whilst in Hungary I also discovered the Hungarian "Sheep Pig" locally called Mangalitsa, I like pigs and particularly pigs that look like sheep, so I called the wine Mangaliza in homage to the sheep pig. The photo was taken by myself of a field mouse which I rescued from my dogs, it lived to fight another day."

Testalonga - Swartland, South Africa
Testalonga was born in 2008 when husband and wife super-duo Carla and Craig Hawkins bought some vineyards and a winery at a location in Swartland called Bandits Kloof.
Out of Bandits Kloof came the El Bandito's including the legendary wine, Skin. Which, when they first macerated Chenin Blanc and released it onto the market in 2008 was THE very first modern skin-contact wine released in South Africa. The El Bandito line of wines are all single-vineyard, single varietal, world-conquering masterpieces nurtured to existence by Craig, who leads the winemaking, and draws from his experience learning the craft in Portugal and South-West France (among other places). Craig is renowned for his ability to carve out wines of great finesse and balance. And this is most typified in the El Bandito line.

Later came the Baby Banditos which make their ever sought after wines that bit more accessible, thankfully! They are easy drinking in style but carry that hallmark minimal intervention approach. Allowing the variety and terroir of Swartland really shine through.
We say this a lot... But, we are super proud to have these wines to share with you. And really mean it. We know the love that gets poured into every drop and cherish them all. Just as many the world over does. Hence why some are in very limited quantity and are only available through our store directly (so that we can share them fairly!).
If you appreciate, our want to learn to appreciate, minimal intervention winemaking of the world at its very best. And wan to understand more about the varietal and terroir expressions of South Africa. Then please do yourselves a favour and try some of these wines.