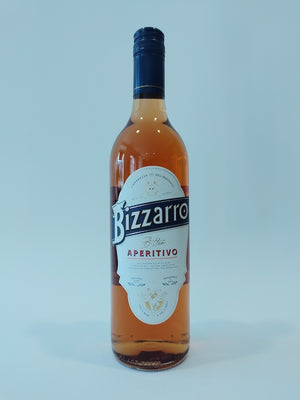 I love my job (most of the time). Because I get the try amazing new things, meet the amazing people making and distributing them and THEN I get to dish out all the good vibes, stories and quality gear to you fine folks!
This is a (relatively) new project by the Delinquent wine co. in South Australia. They happen to make excellent natural wine, they also happen to have handy access to tonnes of oranges and lemons... and voila a "mildly bitter, subtly sweet, wildly refreshing" all natural Australian aperitivo is born! "Bizzarro is a small batch, hand made and all natural aperitivo that evokes la dolce vita with an Aussie twang." - Bizzarro Aperitivo.
Made from a skin fermented natural white wine (vermentino), fortified with neutral grape spirit and infused with organic citrus fruits and botanicals.

Serve as a classic spritz with an organic or even natural, prosseco-like sparkling wine with ice and soda (garnished with a slice of orange of course). Or simplify, serve on the rocks with a dash of soda. Whichever way, it's a perfect aperitivo.
abv 17.5%