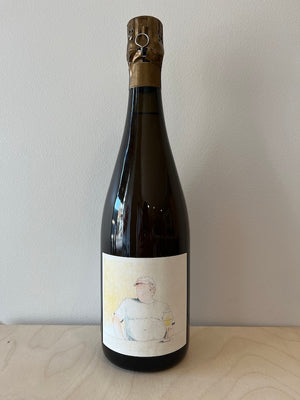 Charles Dufour Champagne Bulles de Comptoir #11 Terrine et Jardin
To be honest, we weren't sure about including a Champagne in our selection at all, as there is a plethora of Champagne focused stores in Lithuania already. But since it is so popular here I thought it would perhaps be silly not to have at least one. So I went straight to the most natural-wine Champagne producer that I know of. Charles Dufour.

This is our personal favourite Champagne.
#11 is Pinot Noir 60%, Chardonnay 30% and Pinot Blanc 10%.
Champagne from the Cote de Bar, the far south of the most famous of wine regions, is home to a high concentration of wines fermented with indigenous yeasts, without added sugar, with low sulfur use, and low-to-zero dosage.
Charles works a total of 6 hectares organically. And to extent that it is possible to make Champagne naturally, this is it (Champagne laws define certain manipulations that are necessary in order to label it Champagne that, to the most dogmatic of natural wine adherents, is a non-natural process). More importantly, particularly in places such as Champagne, for me it is more about the mindset and motivation rather than technicalities. And Charles is definitely focused on being a natural winegrower. For Charles this means using organic grapes, primary fermentation by indigenous yeasts and low total S02 ("35mg/L max"). The not-so-natural part that all Champagne requires, is adding a liqueur de tirage (a mixture of yeast and sugar) in order to carbonate the dry base still wine. But winemakers can choose what they add. In the case of Charles that means using his own organic grape serum (for the sugar) and a dry yeast base of organic yeasts by the neighbouring biodynamic Champagne house Fleury.
Classic with a natural winemaking twist and kick. Ripe apple and pear, cream, brioche and freshly baked crossiants.