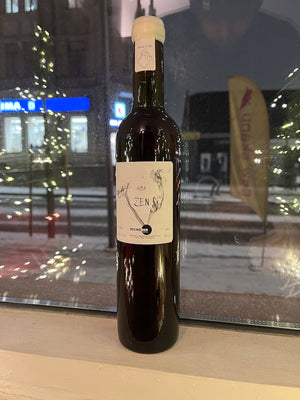 MicroBio Alma-Zen (500ml)
Lithuanian Dessert Championship 2022 BEST WINE winner!

Made from 200+ year old pre-phylloxera vines on original rootstocks. The grapes are raisined late-harvested and pressed to old barrels in a solera-type system.
The MicroBio vines and winery are currently in the care of it's 5th generation, led by the incredibly charming Ismael Gozalo. We had read and heard quite a bit about MicroBio before we had the chance to try the wines (they're kinda becoming a big deal). And then we struck luck as he happened to be attending a wine event that we were going to in Slovakia. So we got to try his wines for the first time with the man himself. And, oh my, we were not dissappointed at all. In fact I immediately after arriving back to Lithuania contacted him to get the wine flowing towards Lithuania. We are very honoured and proud to share these wines.

The winery is in Central Spain, in the province of Segovia in Castilla y Leon. This is the land of industrial Verdejo production and Ismael (and his family before him) are an oasis of fine, organic and now biodynamic farming and natural wine-making in the region. They have vines well over 200 years old! Including many pre-phylloxera vineyards meaning they are on their original root-stocks. This is incredibly rare and is cherished as many believe that such vines have a distinct quality to them. Of their 28ha of vines approximately 5ha are old-vine material. MicroBio have built a huge following across the globe in recent years with their incredible expressions, primarilly, of the main local variety Verdejo. But also the other varieties of the region, notably, Tempranillo but also Rufete, Merlot and Syrah.