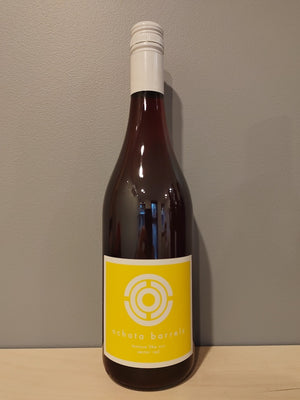 Ochota Barrels Texture like sun 2021
Probably maybe one of my favourite go-to wines of all time. But I'm going to let the Ochota team explain what this actually is... (because they do that better):

gamay 17.9%
pinot Noir 9.5%
pinot Meunier 4.1%
this wine is all about carefully blending specific barriques of the 6 varieties to achieve a wine that is basically and simply
......
delicious! hence the yellow label you can't really read in dim light. red forest fruits, spice, white pepper and peat float around an undercurrent of roasted meats. the palate entry is lusciously red and supple then gives way to finely shaped tannins that are swept up by a wash of damson, cigar box, and cassis. long, fleshy and bright. so very drinkable
In the words of Amber Ochota "Taras made these wines with the same amount of love, passion and laughter that he always had for everything he did. Enjoy them with people you adore".
Order limits apply for all of our Ochota Barrels wines.
Ochota Barrels is a legendary winery by husband and wife team Taras and Amber Ochota, based out of the Adelaide Hills in South Australia. Unfortunately, the wine world lost one of it's absolute gems in Taras in 2020 but Amber has picked it all up and plugged the giant hole with love and support like only a good wife and mother can (with support from Taras's father). So much respect for that legend (both). The wines and the Ochota brand represent a turning point for Australian wines in many ways, a shift to natural philosophies but always bringing fun, laughs and freshness. I will always treasure the brief moments I spent talking to Taras as milestones on my wine journey. Not to mention the impact of the wines themselves.
All the wines are named in some way in tribute to punk rock bands and songs, see if you can pick where from. Taras played in and toured in a punk rock band in Australia before becoming a rock-star winemaker.